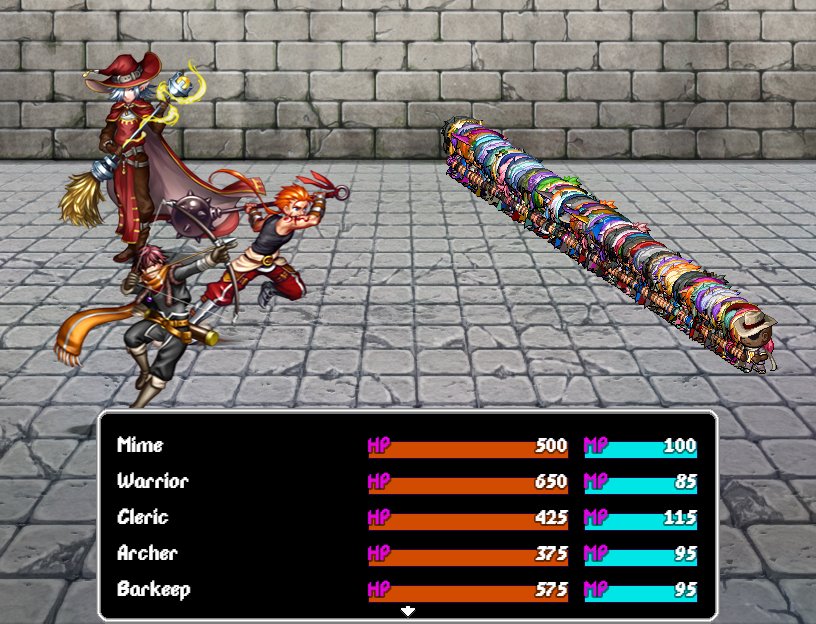 In games, when we discuss a novel new gimmick that "just works" so smoothly it seems like it HAS to be automated, the answer to the eternal question, "How'd they do that?", is often simply, "It was a lot of work!" I wrote a post about this other day, exploring one recent example, Hiveswap, an old-school adventure game where you can use anything on anything and get a unique result.
Well, if you're curious for more examples of "How'd They Do That?" games, and you'd like to see one in its chrysalis stage, I strongly recommend you check out the new demo Damien Crawford just dropped, for a title they're calling "I Have Low Stats But My Class is 'Leader', So I Recruited Everyone I Know to Fight the Dark Lord" (or IHLSBMCILSIREIKTFTDL for short).
The premise is self-evident from a single screenshot (something a lot of indie developers would kill for):
It's a turn-based RPG where you have 99 party characters.
AT ONCE.
If that plus the above screenshot don't instantly make you freak the hell out, then I just, like, don't even GET you.
You can download the demo here. And if you dig it as much as I do, be sure to drop Damien a couple bucks! They're going through some stuff right now, and speaking as someone who merely does gamedev 9-to-5: making cool shit is a hard enough job when it's stable, let alone when it's not.