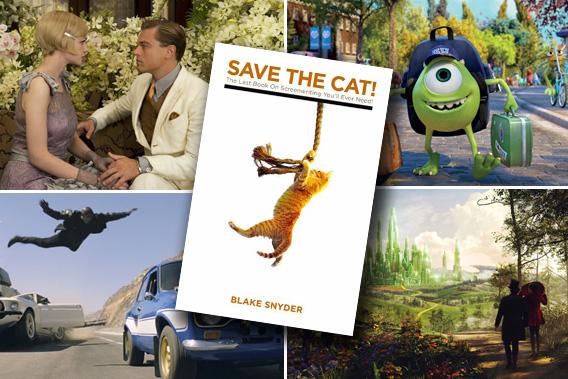 So I've seen this article from Slate making the rounds on Facebook and Twitter: what purports to be a scathing expose on the secret underground book which is single-handedly responsible for the downfall of Hollywood and the homogenous nature of all major studio releases being put out today.
Blake Snyder's "Save the Cat".
From the Slate article:
When Snyder published his book in 2005, it was as if an explosion ripped through Hollywood. The book offered something previous screenplay guru tomes didn't. Instead of a broad overview of how a screen story fits together, his book broke down the three-act structure into a detailed "beat sheet": 15 key story "beats"—pivotal events that have to happen—and then gave each of those beats a name and a screenplay page number. Given that each page of a screenplay is expected to equal a minute of film, this makes Snyder's guide essentially a minute-to-minute movie formula.
Now if you're a screenwriter, chances are you're familiar with Snyder's book, and are laughing already.  The gist of this article–that "Save the Cat" is some kind of Hollywood bible–is so naive and ill-informed it's laughable.
"Save the Cat" is not some cult manifesto.  There are no Hollywood executives thumping "Save the Cat" on their desks.  It's a Screenwriting 101 book — the kind of thing students and hobbyist writers buy when they first start dabbling in screenwriting.  It didn't invent the three-act structure, and it has not had a single goddamn effect on the film industry, because there are thousands of other books exactly like it.  It's basically "Screenwriting for Dummies".  Saying "Save the Cat" is responsible for the decline of the film industry is like saying "On Writing" is responsible for the decline of Western literature.  It's ridiculous.
Hell, Snyder didn't even invent the term 'beat sheet'!  His book didn't even popularize the concept.  "Beat" is screenwriting slang; it's been around since the 20's, and "beat sheet" is just another way of referring to a "treatment" (a 1-2 page walk-through of a film's plot).  What the hell is Peter Suderman smoking?
Here's a much better article about what's actually happening in Hollywood.
And here's director Steven Soderbergh saying much the same thing.
And here's George Lucas and Stephen Spielberg offering their take.
The gist of it is this: Hollywood is no longer interested in small features.  They're only interested in tentpole, established-franchise, series-launching, all-quarters-hitting, focus-tested-to-hell-and-back family blockbusters, with budgets in the hundreds of millionss.  That's why superhero movies have become the new staple.  They're all blockbusters, and they all aim to launch franchises.
The only thing that gets approved outside of these tentpole movies (without having a name like Spielberg or Tarantino attached) are the Tuesday-night films that come and go like farts on the wind: Katherine Heigl formula rom-coms, comedian-vehicles like Grown-Ups 2, movies about dancing hip-hop teenagers…etcetera…etcetera…etcetera.  Studios are gambling huge amounts of money on about one blockbuster every season, and it's leading to a paucity in original artistic content which hour-long television, NON-NETWORK-PRODUCED television, and videogames are only-too-happy to fill.
I don't normally have much interest in playing the blog-about-blog "here's my opinion on why your opinion is wrong" game, but in this case, I felt obligated.  This article is misinformed and comes from a place of complete ignorance.  Peter Suderman has no idea what the hell he's talking about, and it shows.
The idea that someone could think Blake Snyder capable of single-handedly destroying filmmaking is so stupid it's almost baffling.  I mean, if someone wanted to make the argument that Syd Field were ruining screenwriting, I could maybe, maybe understand that.  I wouldn't agree with it, but I could sympathize with someone making the argument.
But Blake Snyder?
The guy who wrote "Blank Check" and "Stop or My Mom Will Shoot"?  
ARVE Error: id and provider shortcodes attributes are mandatory for old shortcodes. It is recommended to switch to new shortcodes that need only url
ARVE Error: id and provider shortcodes attributes are mandatory for old shortcodes. It is recommended to switch to new shortcodes that need only url
How could anybody ascribe that any kind of importance or influence?
But I understand why the article is getting passed around so much.  It's nice to feel superior.  It's like, "A-ha!  I knew movies were getting crappy.  Finally somebody with a website validates my opinion!"  It's also nice to be able to pin an economically-driven industry trend on a single exaggerated bugbear.  "Goddamn you, Blake Snyder!  You and your soulless beat-sheets have ruined us!"
Gimme a break.
Brandon Carbaugh is a screenwriter, author, editor, and ghostwriter.  Join the mailing list to receive free crap, and notifications when he publishes something.